Created by Physical Therapists to be the Pinnacle of Home Exercise Software
Check out all the great features of our home exercise software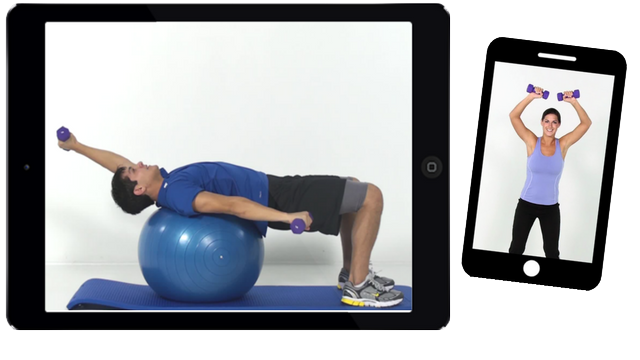 Home Exercise Software for Health Professionals
Exercise Pro Live home exercise software is designed for physical therapists, athletic trainers, chiropractors, wellness programs and related health professions. We have created a comprehensive and versatile home exercise software with all the essential components to meet the needs of basic home programs, yet sophisticated features for the power user. 
And you can even get discounted CEUs (continuing education).
Exercise Pro Live has provided over 1/2 million home programs! And our customers have sent programs to over a quarter of a million patients!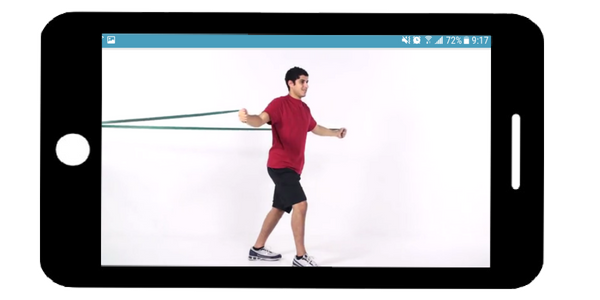 Programs Sent Direct to Patients
We have been providing home exercise software since 1997. Exercise Pro Live (EPL) is a HIPAA compliant online system, making it easier than ever to send home programs direct to your patients that they can view on their computers, tablets or smart phones. And best yet, they can access 24/7, anytime and anywhere.
Additionally, with the mobile app, our customers report, it's so easy that even patients in their 80s have no problem accessing their programs. Conversely, for those that can't use technology, you can provide printed handouts.
3700+ Home Exercise Software Videos
With over 3700 exercises to choose from, your home programs are sure to remain interesting and varied for your patients. Secondly, all exercise videos are in HD format, using real people and not computer generated, non realistic animations. 
Content includes orthopedics, functional, neurology, balance, geriatrics, speech, women's health, yoga, Pilates, fitness, aquatics and more. For more details, check out our Exercise Pro Live content page.
Simplified Search Interface
With over 3700 exercises, it is crucial to be able to locate exercises and create programs in a timely manner. Subsequently, our search engine has six different options (even one to search your patent's previous history of programs) to meet the preference of any therapist.
Want to add a related exercise to the program and not sure what to choose? Our computer AI (artificial intelligence) can provide suggestions and alternative exercises with the click of a button.
Moreover, you can choose by body area, or muscle groups, filter by exercise type, body position and equipment. Use our Rapid Search, select from our pre-made clinical based protocols or create your own.
Lastly, view exercise search results from five different options including photos or line art.
Includes Clinician Phone App
Therapists can use our EPL Engage App to create and issue programs for patients. No more being tied down to your desktop computer. EPL Engage is your portable home exercise software, available right on your phone or tablet.
Our clinician phone app works on either Android or iPhone platforms. It is free and has absolutely NO ADS.
Or you can give your patient a QR code to scan so they automatically see their home program on their phone or tablet.
Remote Therapeutic Monitoring
 If you currently provide Remote Therapeutic Monitoring (RTM) or want to start providing RTM, Exercise Pro Live has got you covered. RTM can improve patient outcomes and provide additional revenue stream.
We provide the tools and the means to perform the initial set up, patient monitoring and reports. Meanwhile, all you have to do is engage with your patients  by phone or your choice of teleconferencing, and then bill with the new reimbursement codes.
Remote Therapeutic Monitoring allows Medicare billing for Initial Setup, Patient Monitoring, and additional monitoring and updates of home exercise and modality treatments.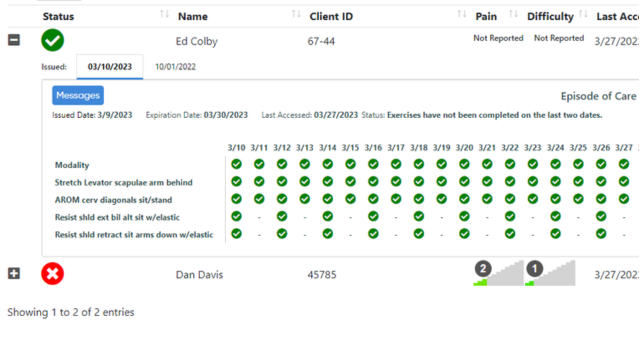 "Offers ease-of-use for quickly finding the exercises you need to create an exercise program."
Rewards Program, Compliance,
Net Promoter Scoring and Feedback Reporting
Providing quality video home exercise programs is great, but every clinician knows that compliance and adherence can be an issue.
Exercise Pro Live has a special Rewards Program, essentially Gamifying our phone app. Patients receive points for consistently adhering to their home program. They receive points for providing pain and difficulty feedback. Our studies show home program compliance improves, especially when patients receive rewards. For the same reason, clinics can even award prizes at significant achievement levels!
Exercise Pro Live compiles this information directly on the main dashboard so therapists can quickly see patient status, allowing them to adjust treatment accordingly.
Not to mention, EPL tracks Compliance; how often, time of day and time periods when patients access their home programs and provides you complete reports. The end result is better patient engagement, accountability and improved participation in their rehabilitation.
There is a built in Net Promoter Score feature to survey your patients satisfaction level with your treatment and facility. This can help decrease patient dropout percentages and provide insight on your perceived quality of care.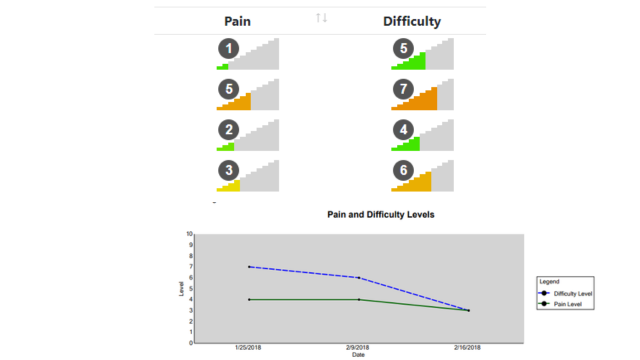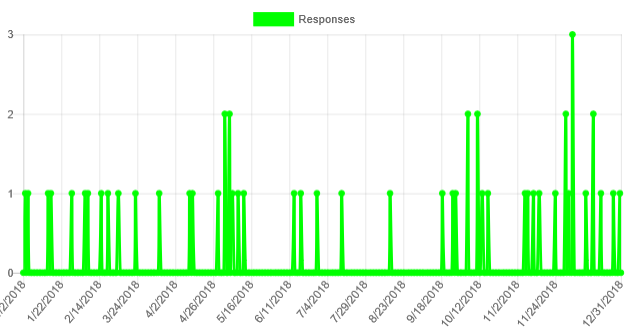 Home Exercise Software with Versatile Delivery
Versatility is key. Not every therapist is the same. Certainly not every patient needs the same things. We don't think a home exercise software should lock or push anyone into any specific method.
That is why we let you provide video programs or print them. 
Plus you can provide instructions in over 130 different languages.
And if you decide to print them, you have the option of choosing photos or using B/W line art which can save toner and ink. 
See a sample home exercise handout.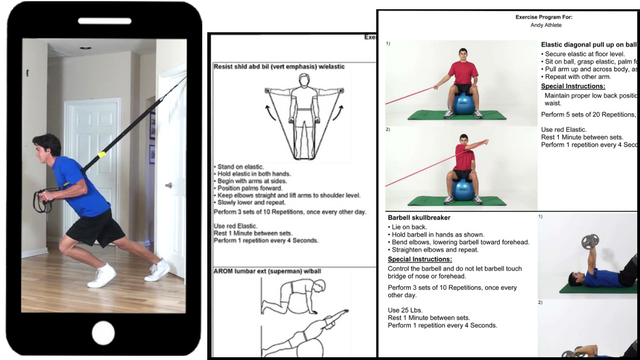 Exercise Pro Live doesn't just do exercise. How often do your patients need information on their condition? They want to know why they are having trouble. Additionally, they want to know how therapy will help. You may want to teach them how to do an ice massage, or use a walker properly.
Exercise Pro Live gives you access to a wide range of patient education topics. These include things like using crutches, canes, walkers, how to make a homemade ice pack, information on proper body mechanics, posture and more.
Exercise Pro Live links with Telehealth systems. 
We make it easier for you to enhance and continue your patient care with online exercise programs by linking with Doxy or Zoom.
Continuing Education Discounts
As our customer you receive substantial discounts from our affiliate continuing education partners. Disciplines include  physical therapy, occupational therapy and speech. And options are available for Live courses, online and live  or recorded webinar series.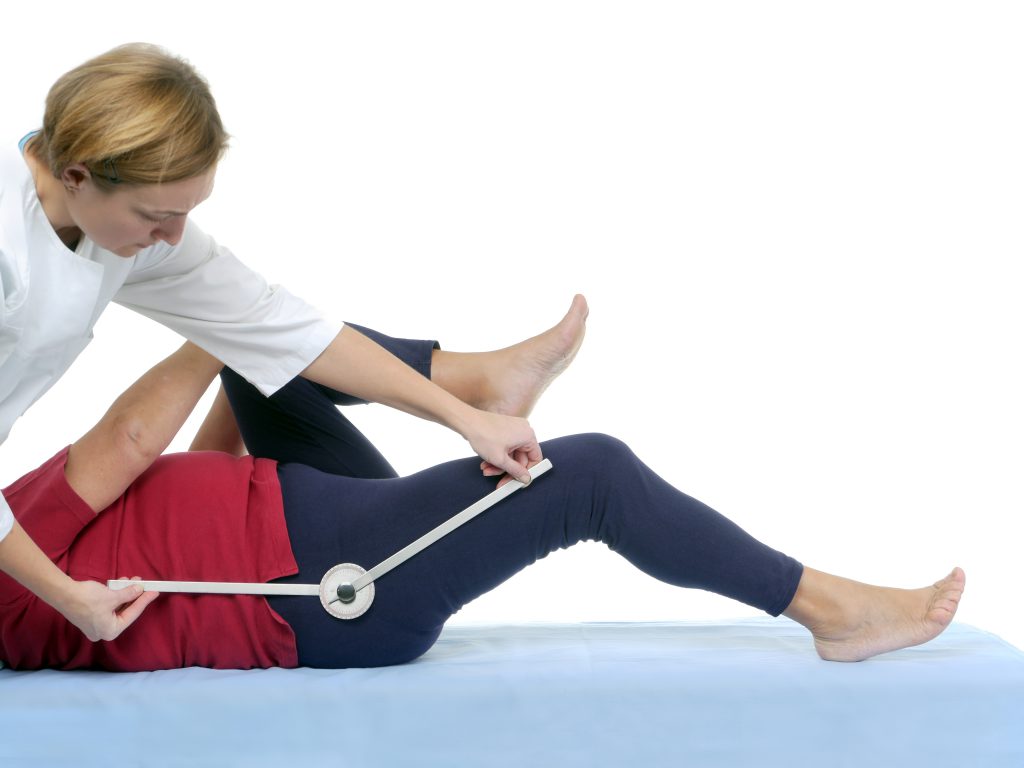 Patient Heath Portal Included in our Home Exercise Software
Each patient has access to their password protected exercise portal, branded with your company logo and information. Here they can:
Access video exercises, complete with sets and reps.
Read instructions.
Access frequency (daily, MWF, twice a day etc.)
Print program with photos or line art.
Report pain, difficulty and completion level of HEP.
Send and receive messages to and from therapist.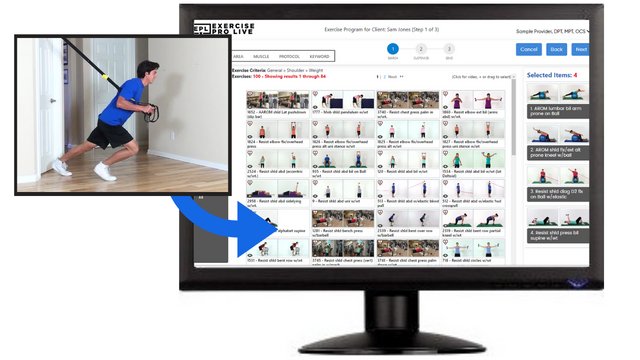 Customize Our Home Exercise Software to Your Needs
We also think a home exercise software system should be adaptable and grow with your needs. Which is why we made sure you have these custom features:
Add your own video exercises.
Add your own education topics.
Provide custom messages in the email patients receive.
Create custom  exercise protocols.
Add your logo to patient portal and handouts.
Set expiration dates on your exercise prescription.
Create personal names to each exercise program.
EPL has many unique features that rarely get top billing but contribute to making our software so powerful and user friendly.
The top "underdog" is global defaults. We let you select sets, reps and frequency based on exercise type. This practically eliminates tedious typing. You just change any exceptions to the rule!
Provide instructions in over 130 different languages.
Mark exercises as favorites and they always show up first on the list. Hide exercises that you don't typically use.
Search for only exercises you have added.
Locate patients by first name or last name.
Track resistance like colors of elastic or weight, which all appears in the automatic chart copy in a PDF format, ready to attach to a patient record.
Set expiration dates on home programs.
Attention to detail is what makes Exercise Pro Live chosen by more therapists for over 25 years.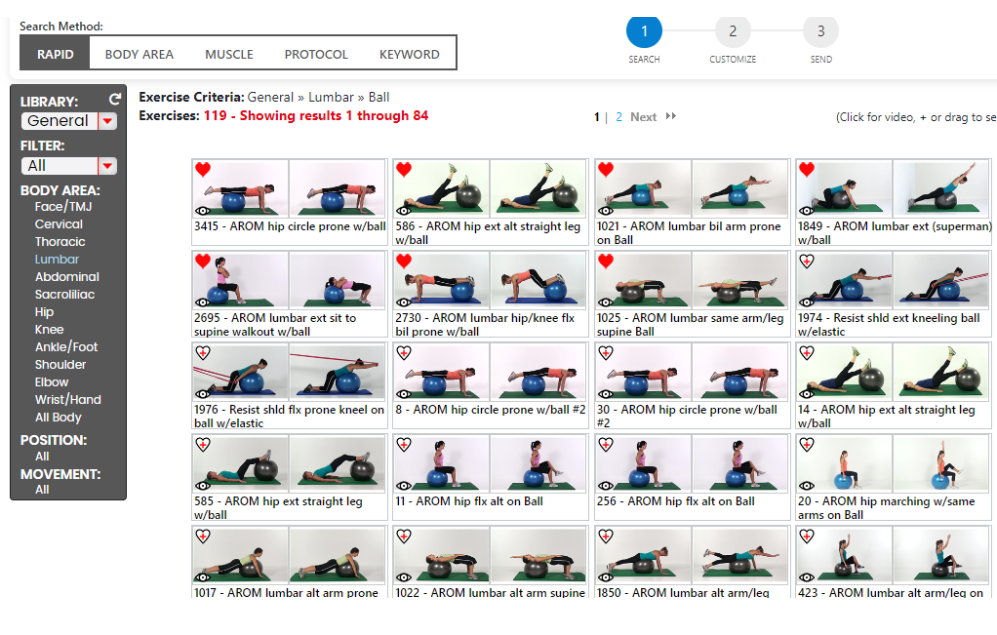 We will create flyers for your waiting room so patients will know you engage with current technology. Furthermore, we can also make free marketing materials for your referral sources so they know their patients are receiving the best strategies and mobile tools available in home exercise and rehabilitation.
And if you want, we can create custom web links so your patients can log in to Exercise Pro Live directly from your website. Just contact us for more details.
Exercise Pro Live integrates with many popular electronic medical records software programs sending chart copies direct to the patient record. We can even integrate directly to the patient portal. If yours is not one of them, it is possible to attach our PDF chart copy summary manually. As an alternative you can have the home program summary put on a clipboard, to easily paste into any document or software. Or have your EMR provider contact us to integrate with us. It's free and easy to do. Following is a list of our current integration partners.
"Great range of exercises and easy to prepare a program."
"Good variety of exercises to choose from. Very easy to use, print and email exercises. I like that exercise programs can be emailed to a client, and that they have short videos that demonstrate how the exercise should be done correctly "
Exercise Pro Live - Home Exercise Software for Academics
EPL is a fantastic resource for Physical Therapy, Physical Therapist Assistant, Athletic Trainer, and Chiropractic programs. Excellent for therapeutic exercise courses as well as student clinical rotations. Student price is only $24.99/year with free faculty subscriptions when the program signs up all your students. Learn more about physical therapy academic software. Or contact us for more details.
Below are some of the schools using Exercise Pro Live.
CBD College

University

of Alaska at Anchorage

Kent State Ashtabula
Kent State East Liverpool
Kent State ATT

University of

Tennessee

at Chattanooga
Excellent tool for our PTA students to use critical thinking skills to develop treatment plans. Students are able to email programs right to their instructors.  And I like the ease of grading.
Tiffany Kiphart, PTA, ATC, M.Ed
PTA Program Director, Kent State University
This software was very helpful and beneficial for the patients. It was easy to use and effective.
Sherilyn Soots, PTA
PTA program new graduate
University of Alaska Anchorage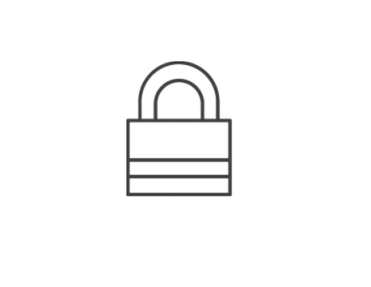 Secure, Encrypted
Secured by the most current encryption systems used today. Password protected for therapist and patient.
Data Backup
Data backed up on multiple servers with additional redundant storage.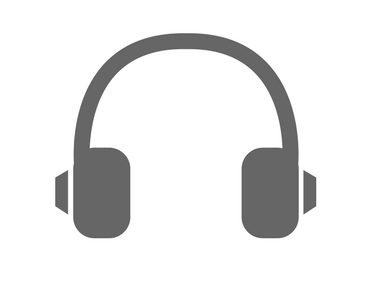 Free Training and Support
We offer support by phone or email. We offer training by video tutorials or online training sessions.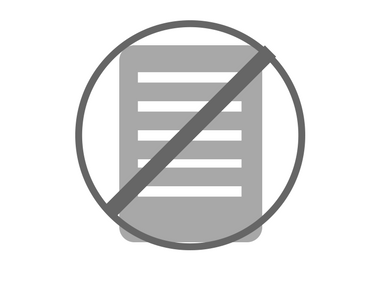 No Upgrades Fees, No Contracts
No extra cost for new features. No long term contracts. Cancel at any time prior to renewal with no questions asked.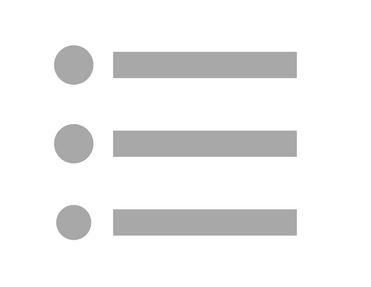 Licensing
Licensed by therapist, either monthly or annual.No fees for multiple locations. No set up fees. Unlimited patients.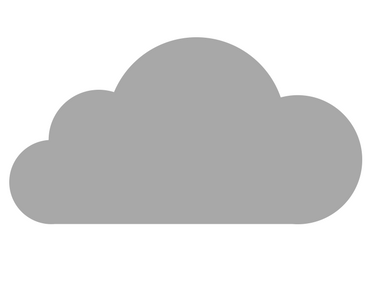 Advantages of Online
Eliminates IT labor costs. Eliminates server hardware and upgrades. No software to install. 24/7 access. Works with Windows, Mac, Android, iPad and smart phones.

jQuery(document).ready(function () { var isChrome = /Chrome/.test(navigator.userAgent) && /Google Inc/.test(navigator.vendor); if (window.location.hash && isChrome) { setTimeout(function () { var hash = window.location.hash; window.location.hash = ""; window.location.hash = hash; }, 300); } });