Remote Therapeutic Monitoring
Improve patient outcomes and open up new revenue streams.
What is Remote Therapeutic Monitoring?
Briefly, Remote Therapeutic Monitoring (RTM for short) refers to the remote monitoring and management of non physiologic patient information such as a patient's musculoskeletal or respiratory system. In January of 2022, the Centers for Medicare and Medicaid Services (CMS) approved codes for the billing of this type of patient management.
This includes musculoskeletal system status, therapy adherence and therapy response. Patients can self report, manually enter and digitally upload RTM data. The service must be ordered by a physician or other qualified health care professional, such as a physical therapist, and the data collected must relate to signs, symptoms, and functions of a therapeutic response. Providers that bill for RTM must use and medical device that meets the FDAs definition. Exercise Pro Live does satisfy that definition.
Adding RTM to your services can add to your revenue with little to no addition of your current workload.
Reimbursements up to $166.25 per Medicare patient episode.
Four Simple Steps for RTM
1. Set up and enroll patient in RTM and assign the digital home program.
2. Monitor patient progress, review feedback and document compliance.
3. Communicate with patient remotely, update programs accordingly.
4. Document and submit Medicare CPT codes for billing.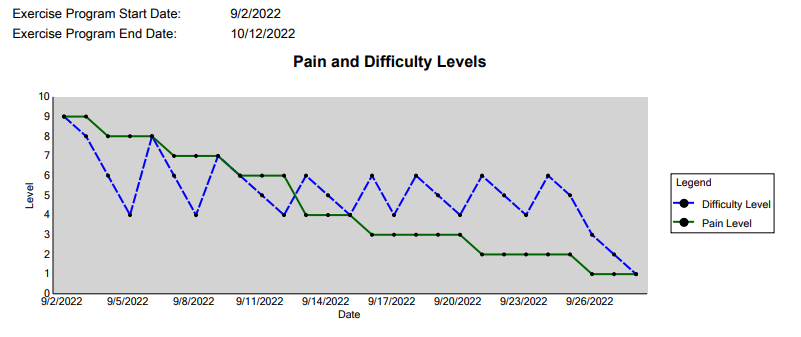 Remote Therapeutic Monitoring is easy with Exercise Pro Live
Exercise Pro Live provides you all you need to start a new avenue for revenue. It's easy to enroll your patient in RTM.
Our dedicated Episode of Care Log lets you monitor your patient's progress. See exactly what exercises your patient is doing, including details on specific sets and reps.
Additionally, you can monitor their adherence to the modalities you have prescribed.
Periodically communicate with your patient by phone or teleconference  and you are set for efficient RTM billing.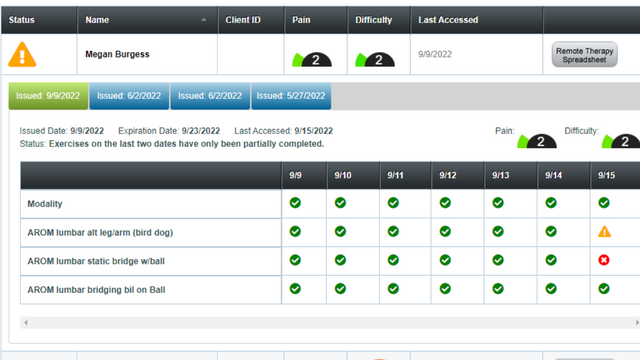 If your clinic has 5 physical therapists, each working with 10 Medicare patients, the result is 50 episodes of care.  50 x $166.25 is an extra $8,312.5 per month.*

Exercise Pro Live meets the FDA definition of medical devices for automated tracking of home programs. Set your patient up with our free patient phone app or online web portal.

Monitor patient home program progress, pain and difficulty and modality compliance.

Monitor and communicate with a total cumulative time of at least 20 minutes for first 16 days. 

Continue monitoring and communicating for an additional 20 minutes from day 16 to 30.

Initial set up – $19.58

Patient monitoring – $57.11

First 20 minutes monitoring/communication/updates – $49.66

Addt'l 20 minutes monitoring/communication/updates – $39.90

 

Total reimbursement per patient – $166.25

*Information provided here is not intended to be guaranteed or accurate as CMS codes are subject to change. Proper billing is the responsibility of the healthcare facility and health professional. Billing and documentation procedures should be based on Medicare guidelines.

jQuery(document).ready(function () { var isChrome = /Chrome/.test(navigator.userAgent) && /Google Inc/.test(navigator.vendor); if (window.location.hash && isChrome) { setTimeout(function () { var hash = window.location.hash; window.location.hash = ""; window.location.hash = hash; }, 300); } });